About St. Louis Properties
Among the Top 20 Largest MSAs in the U.S., St. Louis is ranked the #1 Lowest Cost of Living (ACCRA COL Index 2017) AND the #1 Most Affordable Homes (Source: AHBA). With a GDP of over $150 Billion and Home to 17 Fortune 1,000 Companies, St. Louis maintains an unemployment rate well below the national average (Source: BLS.gov). It was ranked the "Top 10 Most Competitive Large MSAs to do Business" (Source: KPMG) and the "Top 10 Large American Cities of the Future" (Source: Foreign Direct Invest Magazine). The St. Louis properties are strategically located in majority-owner occupied areas and have higher-end finishes that make them stand out from normal rental properties, and position you with a premium exit strategy to sell to an owner occupant on the retail market down the road.
Seller's Additional Notes
What a Beautiful Home! Florissant is in High Demand!
Recently Renovated Spacious Four Bedroom, Two Full Bath Ranch Featuring Updated Kitchen and Bathrooms, Brand New Carpeting, and Beautifully Refinished Hardwood Flooring Throughout. Eat-In Kitchen with Separate Dinning Room for Large Family Gatherings. Main Floor Master Bedroom Suite with Full Upgraded Bathroom and Overhead Lighting. Full Unfinished Lower Level Perfect for Storage or Additional Future Living Space.
Here is the Scope of Work performed on this property:
Cleaned out house and garage
Fixed/repaired all walls, ceilings, trim
Prepped, primed/kilz and painted entire house with two tone paint on all ceilings, walls, trim
Accent walls in each room painted
New light fixtures throughout
Brand new furnace, a-coil, and electrical components
Brand new AC unit and line set
Brand new hot water heater
Re-run plumbing where needed
New Stack in basement
Replaced toilet, surround, vanity, mirror, faucets, and all new tile in bathroom floor and tub surround
Replaced kitchen cabinets, sink, faucet and vent
Installed new counter tops
Installed new tile backsplash in kitchen
Replaced front door and hardware
Changed out thermostat
Upgraded electrical, switches, outlets, wiring, junction boxes, and GCFI's
Brand new electrical panel, meter and pole
Replaced washer and dryer hookups and shutoffs
Added ceramic tile to kitchen floors
Added ceramic tile to bathroom floors
Added carpet to bonus room
Sand hardwood floors and stained
Added flooring in foyer and hall
Replaced damaged interior closet doors
Changed all door hardware throughout house
Added new appliances
Had drain line snaked
Painted front of house including pillars
Added concrete to concrete porch
Repaired damaged flashing and gutters
Painted shutters on house to match paint
Painted front door
Scraped and painted peeling paint on house
Removed all leaves and debris from yard
Added gutter extensions
Swept off roof
View the Webinar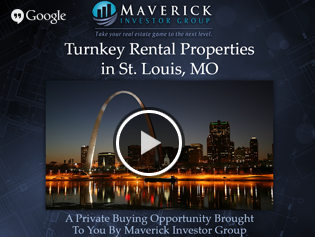 St. Louis Highlights
St. Louis Properties:
Fully-Renovated Single Family Homes
Tenants and Property Management in Place as Condition of Closing
Suburban communities with majority owner-occupants
$125,000 Average Purchase Price
St. Louis Market:
Lower Than Average Unemployment
Home to 17 Fortune 1000 Companies.
Over $1 Billion in Venture Capital Invested in Tech Firms Since 2014
Top 10 Most Competitive Locations to Do Business Among Large MSAs
Disclaimer
All representations about this property--including but not limited to its features, expenses and potential rent--are made exclusively by the Seller and are not verified or guaranteed by Maverick. It is the sole responsibility of the buyer to do your own due diligence and independently verify all numbers presented here.
Recommended Real Estate Investor Tools
Pull a Rent Range Report For Due Diligence: a Rent Range report will help you to determine the market rents and local vacancy rates at the individual address level before you buy. Get a free RentRange Advanced Report for any property address in the U.S.
---
---
Professionally Analyze Deals and Monitor your Portfolio: PropertyTracker enables you both to analyze deals before you buy them and to monitor the performance of your portfolio after you close by using key financial metrics including your actual income and expenses Get a 30-day free trial and a 20% discount on PropertyTracker.