View the Webinar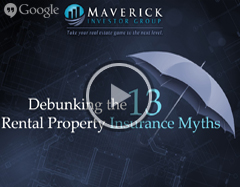 Are you at Risk for Being Under-Insured on Your Rental Properties?
OR
Are You Paying Too Much For Your Coverage?
Rental Property Insurance can be complex and confusing because it is very different than insuring your primary home, and there are a lot of myths floating around out there that can get you burned when you least expect it. To get a handle on it all, check out our recorded educational webinar on "Debunking The 13 Rental Property Insurance Myths"
How much do you really know about rental property insurance?
The recorded webinar above breaks down and debunks these 13 Rental Property Insurance Myths:
Myth: Rental property insurance is exclusive of estate, tax and financial planning.
Myth: Being named as an "additionally insured" on the existing homeowner's policy will sufficiently protect your interests on a "subject-to" deal.
Myth: Buying a property in your personal name and using your homeowner's liability policy is fine.
Myth: The personal dwelling fire policy is sufficient to cover your non-owner-occupied rental property.
Myth: You have a personal umbrella policy so you don't need "commercial" insurance.
Myth: A claim that occurred before you owned the property shouldn't affect your insurance rate.
Myth: All policies and coverages are created equally.
Myth: Self-insuring your property is always too risky.
Myth: You need "builders risk" coverage for your vacant or rehab project.
Myth: It's worth it to hire a handyman to do the maintenance on your properties.
Myth: If you use your personal vehicle to service your properties, then your personal auto policy is sufficient.
Myth: It's enough to simply require renter's insurance.
Myth: Cheaper is better.
Watch the webinar replay to see each myth debunked and learn the facts about rental property insurance.
Introducing REIGuard
Was your insurance policy customized for you by a rental property specialist?
If the answser is 'No', allow Maverick to introduce you to REIGuard.
REIGuard is designed just for real estate investors and insures over 52,000 units in the U.S. for more than 12,000 individual investors, conglomerates, bulk REO holders, and more.
REGARD is Different Because it Offers:

Tenant Protector Plan that provides your tenants with contents coverage as well as liability coverage for you as the property owner for tenant-caused losses.
Monthly reporting form that allows your property to be insured through multiple phases of occupancy without the headache of having to cancel and rewrite policies
Underwriting your property without requiring CLUE reports or "loss runs" from prior owners
Review of General Contractor liability certificates of insurance to ensure you are protected when maintenance is being performed on your property.
Umbrella policy limits up to $200,000,000
Loss management services that assist you through the claims process and work as an advocate on your behalf
Loss Prevention services to keep you informed of the latest industry news and tips
Is your insurance policy optimized for your personal portfolio of properties?
SPECIAL OFFER FOR YOU:

Strategize with a rental property insurance expert from REIGuard about which insurance policy is the best fit for YOU personally, based on your current rental properties, locations, future acquisition goals, deductible preferences, coverage requirements, and more. Get all of your questions answered and get a customized quote just for you.
DISCLOSURE: This is an affiliate link and Maverick Investor Group may receive financial compensation for anything you purchase through REI Guard or National Real Estate Insurance Group.

DISCLAIMER: Maverick Investor Group, LLC is not an insurance agent, broker or provider and makes no representations about any insurance products, coverage, terms or the suitability of any policy for your individual needs. Maverick is introducing you to REIGuard only, and it is your duty to evaluate the opportunity and determine the suitability for your needs.