About this Webinar
Webinar: Philadelphia "BRRRR" (Buy, Renovate, Rent, Refi, Repeat)
Live Date: Tuesday, February 20th
Time: 6pm PT (9pm ET)
Tune-in to an overview of the Philadelphia market and see why it is so advantageous for real estate investors right now. Learn all about the unique advantages of the "BRRRR" strategy for cash buyers. Hear about the most prominent risks associated with this model....and how to mitigate them.
View the Webinar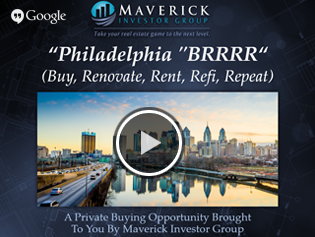 Philadelphia Highlights
Philadelphia Properties:
Discounted price for funding the acquisition and renovation yourself;
180 day renovation period guaranteed by Seller;
Renovation cost guaranteed by Seller in advance;
Improved property guaranteed to appraise for more than you paid (or seller will buy it back);
12-month rental guarantee (starting after 180-day renovation period);
6-month Scope of Work warranty;
Philadelphia Market:
Job growth above national average
Home prices have increased 10% in the past year
Mass-Tourism: Over 4 million visitors annually (one of the U.S.'s top attractions)
Mega-College Town: Home to 92 colleges and universities, creating consistent rental demand
New $225 Million Waterfront Park Project expected to spur $1.6 Billion in private economic activity and create 2,400 jobs by 2022.