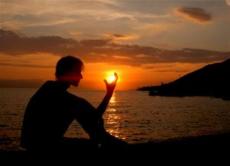 As the real estate market comes roaring back, so too (unfortunately) do the late night infomercial gurus and seminar hacks with their get-rich-quick-through-real-estate schemes. If you are a beginning investor looking for quality education, this post is a basic primer on what these folks are up to, how their "business model" works, why it rarely benefits you, and what you can do to protect yourself.
Let's start with the concept of "information marketing" and clarify that most of these gurus are getting rich off of selling information to you (high priced seminars, coaching programs, bootcamps, etc) and not off of investing in real estate themselves. So, their personal path to riches is not the same one they are advocating to you.
Most gurus use a pretty standard "sales" model, which looks something like this:
The Free Seminar Gateway Offer.

They offer you a "free seminar" to get you in the door, often times deceptively promoted where it appears the real estate guru will be there in person, but in fact it is just low level sales people who get in front of a captive audience to deliver a scripted sales pitch. Here you are entering the their sales funnel and their sole goal is to sell you on their next product tier.


The Legitimacy Claim.

The guru makes some "legitimacy claim" (usually without much evidence so you cannot independently verify it) about a success they had with real estate investing (i.e: I started from nothing and made $1 million in 18 months). Often these gurus are authors of books, former stars of TV shows, or have other types of supplementary claims to bolster their legitimacy, often including paid celebrity endorsements.

The Proven System Claim.

They claim that their real estate investing "model" is replicable for everyone in the audience who implements it so you can do exactly what the guru did by following their "proven system". They usually claim you don't need any money, credit, or knowledge to succeed. Sometimes they heavily emphasize that if you are broke, lazy and dumb as a brick, this program would be perfect for you (Target Market Alert!). I once saw this message pushed so aggressively that I wanted to raise my hand and ask: "Yeah, I was wondering if you have any programs available for smart people?"


The Emotionally-Manipulative Selling Environment.

I have sat through a number of these pitches and personally witnessed a slew of emotionally manipulative techniques used to attempt to get me to buy into their next product tier. I have watched the gurus get the audience to dive into child-hood insecurities through carefully proscribed exercises to move the prospects into the most vulnerable state possible, even reducing some of the audience members to tears. I have also watched gurus use very aggressive peer pressure to make anyone who is not buying feel like a complete loser by getting the rest of the audience to ostracize them. 


Providing Questionable Testimonials.

The guru will provide "testimonials" (often they will not provide the full name, or allow you to contact the person as a reference, so rarely is there independent verification available). 

 In the cases where the testimonials are actually real people (i.e: The guru introduces their "best students"), these individuals usually have results that are extremely atypical, and there are usually a variety of other factors in place that facilitated their results well beyond the product that they are attempting to sell you.

Lowering the Barrier of Entry.

Finally, they will "lower the barrier of entry" and allow you to buy their product/service on your credit card (or, very generously, help you open a new credit card or raise your credit limit on the spot in the back of the room), use a payment plan, or whatever it takes to get you to part with your money. 


Entering the Rabbit Hole.

At this point, you have entered the "rabbit hole", and whatever you bought--maybe a second seminar that might have the guru there in person (but probably just a cardboard cutout), or maybe a "coaching program" (where generically hired sales people do "back end fulfillment" and read off scripts to "mentor you"), or maybe a home study course of sorts--is now the first step into the up-sell-funnel upon which they will continue to try and get you to buy more and more expensive products until they are eventually pitching you on seminars and coaching programs that cost up to $40,000 or more.

Blaming the Victim and Suppressing Discontent.

When students are unable to achieve the advertised results and they complain or attempt to publish a negative review of the guru online, there is often an aggressive retribution campaign by the guru and their organization. First of all they usually blame the student and insist that the failure is solely the student's fault because they are not smart enough, did not work hard enough, or whatever. Secondly, many gurus have legal teams standing by to intimidate unsatisfied customers who express public criticism (threatening to sue them) as well as "reputation management" services to try and get negative reviews out of public site.
At this point it is important to clarify that "information marketing" is a very broad category, and some information being sold is highly valuable (I personally pay for education, information and consulting from high value sources). But a disturbingly high number of expensive coaching programs and seminars, particularly in the real estate investment space, are of very little value and, often, of negative value because they will actually cause you lose money. I also want to clarify that I am not accusing all real estate investment gurus of being fraudsters or using every tactic described above. However, I have personally witnessed a disturbingly high number of these gurus preying on low-income people and emotionally vulnerable people who are susceptible to manipulation. They aggressively attempt to sell them "hopes and dreams", then proceed to deliver very little value and ultimately blame the student for their own failure to succeed with the product/service they bought. Furthermore, many of these products and services are being sold in highly emotionally charged environments designed to diminish reasonable due diligence by the consumers purchasing them. So, please be careful.
Here are a couple reasonable questions to ask about the economic-incentives at play:
If the guru's approach to real estate investing really requires no money and no credit (and hence is infinitely scalable), and the profit margins are so large, and the guru is really such an expert at doing it successfully, then why are they not spending all their time doing it? It would not be financially rationale for them to be teaching seminars and coaching programs unless they are making MORE money on the seminars and coaching programs than they are able to make in real estate.

Since the guru is a salesperson, and their sales-funnel requires more and more expensive up-sells which net the Guru more and more profit, where do you think the guru is going to encourage you to put your finite amount of capital….into

cash-flow properties

that generate profit for

you

or into more coaching programs that generate profit for

the guru?
I want to be clear that I am in complete support of life-long learning and particularly in support of educating yourself about real estate investing if you are going to pursue that avenue. But the ultimate question for you as a consumer and investor is how much value you are getting in return for the money you are paying. With the amount of free real estate investment resources available online, books published on these topics, as well as online blogs and discussion forums for you to connect and network, there is no reason to pay tens of thousands of dollars for a guru program.
Finally, there is no amount of reading and studying and coaching and mentoring that will ever substitute for actually getting in the game and learning through experience. So if you were to re-direct those tens of thousands of dollars into actually buying a cash-flowing property for yourself and going through the process of market research, due diligence, closing, etc, this is the quickest way to accelerate your learning curve. Plus, buying rental property means you will own an asset that has the potential to put money into your pocket instead of putting that money into the guru's pocket.